Aging in Place with Companion Care
No Unfinished Business Podcast Ep. 31: Aging in Place with Companion Care w/ Mikey Newton
What is companion care, and how might it fit when planning for loved ones aging in place?
Introduction
This week, we're diving into a topic that affects many families today: aging parents and the so-called "sandwich generation." These are individuals who find themselves caring for their children while simultaneously worrying about their aging parents. Our guest is Mikey Newton of Maxim at Home, which provides non-medical companions for the elderly. She breaks down what this service is and how it can be a lifesaver for many families with a loved one aging in place at home.
The Challenges of the Sandwich Generation
The sandwich generation faces unique challenges as they are caretakers in two different directions—taking care of their children and their parents. The first step in navigating this complex equation is often understanding the kind of help the older generation might need. One solution is non-medical companions who assist the elderly in aging in place, thereby maintaining their independence and lifestyle.
Key Statistics
An important factor to consider is that the baby boomer generation is aging rapidly. Within the next seven years, 20% of the population will be 65 and older. Senior living communities are an option, but not everyone wants or can afford to transition into these facilities.
Services Offered by Companions
Companionship is at the heart of this service, but companions also provide:
Transportation
Light housekeeping
Meal preparation
Pet care
The Importance of Companionship
As former Surgeon General Vivek Murthy highlighted, companionship is a physical need. Providing companionship not only improves the mental well-being of elderly individuals but also contributes to healthier living in various aspects.
Warning Signs to Watch For
When it comes to aging parents, early intervention can make a big difference. Keep an eye out for:
Social withdrawal
Reduced interest in hobbies or activities
Loss of appetite
Frustration with technology
Signs of depression
The Age Lab Questions
MIT's Age Lab publication recommends three questions to gauge how well someone can live independently:
How are you going to get an ice cream cone?
How are you going to change a light bulb?
Who will you have lunch with?
These questions assess various needs such as transportation, minor home repairs, and the essential aspect of companionship.
Making the Right Match
Finding the right companion is essential for the success of this service. Many platforms that provide this service operate much like a dating app, offering previews of available companions, their bios, work experience, and hobbies. This ensures that the family can choose someone who will best mesh with their loved one's personality and needs.
Preparing for the Transition
Families often face common issues when transitioning to having a companion in place. Clarifying the role of the companion—what they can and cannot do—is crucial. Misunderstanding tasks such as the scope of housekeeping can lead to frustrations down the road.
Planning for Breaks and Vacations
Another advantage of companionship services is they offer respite for family members. Whether it's a child living in a different city or family members going on vacation, these services fill in the gaps to ensure continued care.
Conclusion
Being part of the sandwich generation is challenging but taking the right steps can make the journey easier for everyone involved. Understanding the warning signs and needs of your aging parents can help you decide on the right course of action. Non-medical companions offer a variety of services aimed at enhancing the quality of life for the elderly, which, in turn, provides peace of mind for their families.
Find more info at https://www.maximathome.com/ or Mikey on LinkedIn at https://www.linkedin.com/in/michelle-newton
---
No Unfinished Business® Podcast
We hope you'll join us each week, so hit that follow button, and if you have any questions, feedback, or ideas for topics, please reach out via social or email. We'd love to hear from you.
Contact John at john@strohmeyerlaw.com or via social.
Visit https://www.strohmeyerlaw.com/houston-professional-advisors for more info about how John works with professional advisors.
Schedule a free consultation with Strohmeyer Law to protect your family with an estate plan.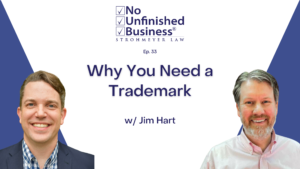 We'll explain the the four main areas of intellectual property for business owners, why trademarks are crucial, and how to get your marks registered.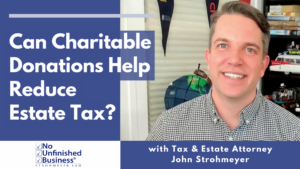 Charitable donations can make a meaningful impact and potentially save you on estate taxes. We'll explain how the two relate.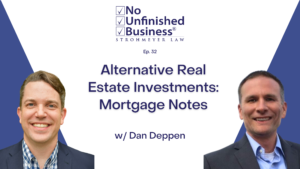 Discover how investing in mortgage notes can be a great alternative to traditional real estate investing.