Do I Need a Tax Attorney, CPA, or Enrolled Agent?
Do I Need a Tax Attorney, CPA, or Enrolled Agent?
Finding the right person to fix your complicated tax situation can be tough, so it's important to understand the differences between a tax attorney, CPA, and an enrolled agent.
Getting your taxes done correctly (and to your benefit) takes the right team. You have a lot of choices when it comes to tax preparation, planning, and even defense. So who does what? Who should you go to first? What's the difference between a tax attorney, a CPA, and an Enrolled Agent when it comes to tax matters?
It can be confusing, so I wanted to clear up exactly what these different roles can do for you, and who is best to focus on which particular issues. Hint: your first stop probably isn't a tax attorney!
This video sheds some light on the following questions and topics.
What does each role cover?
Who handles financial analysis & tax consequences?
Who can help with tax planning?
Who do you go to first with tax and deduction questions?
Who actually prepares your returns?
Who helps with audits/IRS issues?
When is an attorney your number one option?
​Tax or District Courts
Confidentiality concerns
Having documents, arguments, or disclosure statements drawn
Legal analysis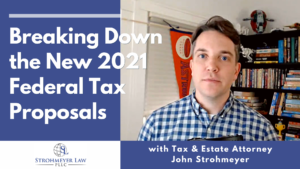 John breaks down the proposed new federal tax measures being put forth in the House in September 2021. He walks through the main points and helps you understand what provisions might affect you, your business, and your family.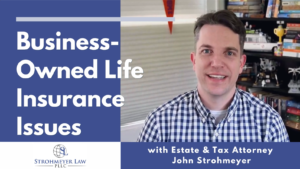 Business owners! Make sure you're staying in compliance and tax-advantageous with regards to your company-owned life insurance policies on employees (aka Keyman or Keyperson Insurance).
You've got an estate plan, and you don't plan on dying soon. That's great! But if something did happen unexpectedly, does that plan still fit your needs and goals? Is your situation the same as it was when you drafted those documents?