Estate Planning for Young Adults
Estate Planning for Young Adults
If your kid is headed off to college, there's a million things to think about. Their estate plan is probably not the first thing on your radar, but there's still important safeguards you should make for your young adult.
Even when it's tough to let them go, you can have some peace of mind knowing you've helped set them up for the future.
I'll walk you through the main considerations in planning for the newly-minted young adult in your family.
This video will cover the following documents you might think about.
– Medical Powers of Attorney
– HIPAA Authorizations
– Advance Directives/Living Wills
– When to consider a Durable Power of Attorney
– Why you shouldn't worry about a Last Will
– Why I think a FERPA waiver is a bad idea
Some of the suggestions might surprise you, but I hope it gets you thinking about starting your young adult's planning early.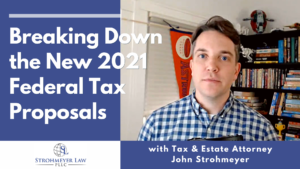 John breaks down the proposed new federal tax measures being put forth in the House in September 2021. He walks through the main points and helps you understand what provisions might affect you, your business, and your family.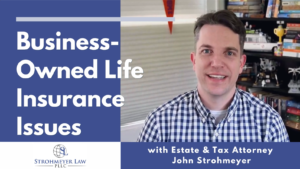 Business owners! Make sure you're staying in compliance and tax-advantageous with regards to your company-owned life insurance policies on employees (aka Keyman or Keyperson Insurance).
You've got an estate plan, and you don't plan on dying soon. That's great! But if something did happen unexpectedly, does that plan still fit your needs and goals? Is your situation the same as it was when you drafted those documents?