How to Minimize Future Costs in Your Estate Plan
How to Minimize Future Costs in Your Estate Plan
There are steps you can take to reduce the expenses your family might incur down the road.
The probate process in Texas generally isn't all that expensive and time-consuming (especially compared to states like California), but that's assuming we have everything in place correctly. If we don't, then we can encounter big headaches and expenses from probate (and the IRS).
So what can we do to minimize the risk of those expenses that your loved ones could face?
I'll cover some key tips for your estate plan.
– Know where your original documents are, and make sure your family can find them.
– Make sure those documents are effective/optimized for Texas.
– Enjoy the benefits of an independent probate administration in Texas.
– Planning for any potential estate taxes, i.e. who actually needs to worry, with examples.
– Consider what your assets will COST your family, like appraisals, related expenses, or transfer fees.
The end of a loved one's life is an incredibly difficult time for the family. Let's make sure it's not expensive to boot.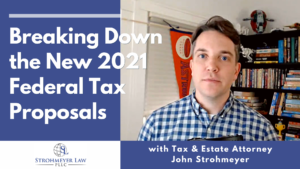 John breaks down the proposed new federal tax measures being put forth in the House in September 2021. He walks through the main points and helps you understand what provisions might affect you, your business, and your family.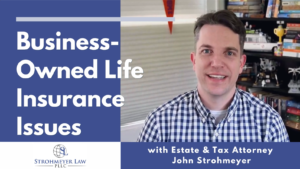 Business owners! Make sure you're staying in compliance and tax-advantageous with regards to your company-owned life insurance policies on employees (aka Keyman or Keyperson Insurance).
You've got an estate plan, and you don't plan on dying soon. That's great! But if something did happen unexpectedly, does that plan still fit your needs and goals? Is your situation the same as it was when you drafted those documents?