I Don't Own a Lot of Stuff. Do I Really Need a Last Will?
I Don't Own a Lot of Stuff. Do I Really Need a Last Will?
John responds to this very common question from everyday people:
"I don't have a ton of stuff, what do I need an estate plan for? Can't my family just take my things and move on?"
Well, short answer is… maybe? But chances are, you have more things than you think. An estate plan and last will make all your possessions, large and small, much easier to pass on to your family.
And it can save them thousands of dollars in probate costs, and avoid huge headaches to boot.
For example, the title to your house doesn't automatically get handed over to your heirs. It can be a costly court process without a will. Even getting into a bank account, whether it's got $2,000 or $2,000,000 in it, isn't easy for families after a loved one passes without a last will.
Give me a couple minutes, and I'll explain why an estate plan is a smart move, no matter how big or small your "estate" may be.
Schedule a free consultation with Strohmeyer Law to protect your family with an estate plan.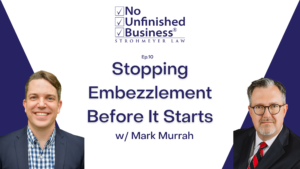 Get invaluable tips on identifying, stopping, and preventing embezzlement within your own business on this episode of the No Unfinished Business Podcast.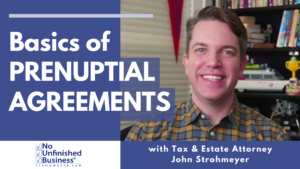 You're getting married and you wanna know: Do I need a prenup and how do they work?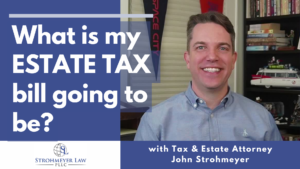 The estate tax is one of the most commonly asked about and confusing subjects in estate planning. Let's get into the basics, some projections for the near future, and some concrete examples.