No Unfinished Business Q&A: TRUSTS
Answering your trust questions
Our firm gets a ton of questions about trusts, and whether or how clients should set one up as part of their estate or wealth management plans. So I decided to compile and answer a bunch of those common questions in one fell swoop in a livestream.
I cover all these topics and more.
– How can a trust protect me and my assets?
– My trust was formed in another state. What do I need to do to make sure that my trust doesn't cause problems in Texas?
– How much money/assets do I need to have for a trust to make sense?
– What's the difference between a revocable trust and an irrevocable trust?
– If I don't have many assets, does that mean I don't need a trust?
– I don't have any kids, does that mean I don't need a trust?
– I heard that trusts can help you avoid probate. How does this work?
– How does a rev trust differ from a living will?
– What is a deferred sale trust?
If you've wondered about any of these, click through to watch the video, and if there are questions that I didn't get to, let me know with a quick email!
Schedule a call with Strohmeyer Law.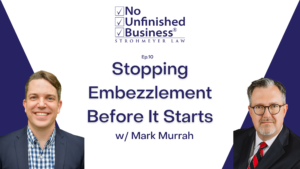 Get invaluable tips on identifying, stopping, and preventing embezzlement within your own business on this episode of the No Unfinished Business Podcast.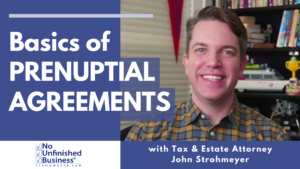 You're getting married and you wanna know: Do I need a prenup and how do they work?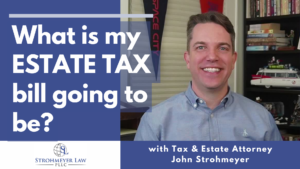 The estate tax is one of the most commonly asked about and confusing subjects in estate planning. Let's get into the basics, some projections for the near future, and some concrete examples.