Understanding Long-Term Care Insurance Policies
No Unfinished Business Podcast Ep. 21: Understanding Long-Term Care Insurance Policies w/ Wallis Wilkinson Tsai
Planning for long-term care, whether expected or unexpected, can be very tricky business. Long-term Care Insurance can help, and we're here to explain.
Demystifying Long-Term Care Insurance
There are many options for long-term care insurance out there, and it can be difficult to understand the myriad policy types, payout structures, and benefit levels available to you or your client.
Our guest, Wallis Wilkinson Tsai of AboveBoard Financial, is here to demystify the world of long-term care insurance for you and your clients.
She gives us her Seven Questions to Ask About Long-Term Care, and walks us through the potential answers.
These questions can guide you and your client to the policy that best fits their long-term care needs.
Top 7 Questions You Must Ask About a Long-Term Care Policy:
1) What type of LTC policy is this?
2) What is the initial max monthly benefit?
3) Does that max increase over time? For inflation?
4) For how long does it adjust?
5) Does it offer reimbursement or indemnity payouts?
6) Can my premiums increase in the future?
7) Does this policy terminate/have a death benefit?
Contact Wallace for more information online at https://www.aboveboardfinancial.com/about or below:
LinkedIn: https://www.linkedin.com/company/aboveboard-financial
FB: https://www.facebook.com/AboveBoardFinancial
Twitter: https://twitter.com/AboveBoardFin
Links to even more info:
1) Top 7 Questions You Must Ask About a Long-Term Care Policy: https://www.aboveboardfinancial.com/blog/top-7-questions-you-must-ask-about-your-long-term-care-insurance-policy
2) Long-term Care Insurance: A Quick Primer https://www.aboveboardfinancial.com/blog/long-term-care-insurance-a-quick-primer
3) Get a long-term care insurance quote: https://www.aboveboardfinancial.com/long-term-care/questionnaire/new
4) Book a call to discuss and ask questions: https://www.aboveboardfinancial.com/schedule-call
---
No Unfinished Business® Podcast
We hope you'll join us each week, so hit that follow button, and if you have any questions, feedback, or ideas for topics, please reach out via social or email. We'd love to hear from you.
Contact John at john@strohmeyerlaw.com or via social.
Visit https://www.strohmeyerlaw.com/houston-professional-advisors for more info about how John works with professional advisors.
Schedule a free consultation with Strohmeyer Law to protect your family with an estate plan.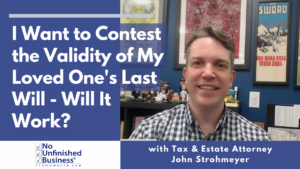 I want to contest the validity of my loved one's will. How do I do that? Will I be successful?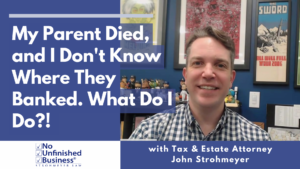 Locating a loved one's bank accounts for probate can be tough, especially without paper statements. Here's what you can do.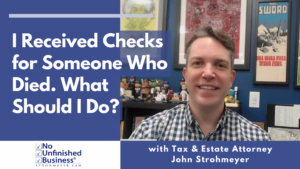 This is a common problem in probate, and I'll explain what needs to happen to get it resolved.