Understanding Non-Competes and Their Tax Implications in Texas
Understanding Non-Competes and Their Tax Implications in Texas
Non-compete agreements can be confusing and there is tax planning you should have in place when you enter into one. We'll break it all down for you.
Non-compete agreements are commonplace these days, particularly if you're selling a business. But these agreements can be a little confusing or murky when we apply them in real life. How and when are they enforceable? Should I agree to a non-compete, and what terms are standard?
Board-certified Tax & Estate Planning attorney John Strohmeyer is joined by business litigator Zach Wolfe, who will help us understand how non-competes are used and structured (especially in Texas), and in turn, John will illuminate some of the potential tax consequences of non-compete agreements.
Connect with Zach on LinkedIn here: https://www.linkedin.com/in/zachwolfelaw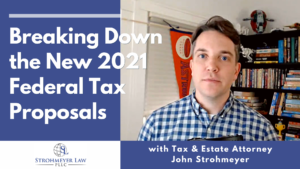 John breaks down the proposed new federal tax measures being put forth in the House in September 2021. He walks through the main points and helps you understand what provisions might affect you, your business, and your family.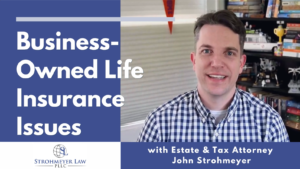 Business owners! Make sure you're staying in compliance and tax-advantageous with regards to your company-owned life insurance policies on employees (aka Keyman or Keyperson Insurance).
You've got an estate plan, and you don't plan on dying soon. That's great! But if something did happen unexpectedly, does that plan still fit your needs and goals? Is your situation the same as it was when you drafted those documents?