What is my ESTATE TAX bill going to be?
The estate tax is one of the most commonly asked about and confusing subjects in estate planning. Let's get into the basics, some projections for the near future, and some concrete examples.
How much am I likely to be paying in estate tax to the IRS if I were to die?
Well, of course, that depends. A certain amount of your assets is protected from (exempt from) the estate tax. That exemption limit is in flux, and there's a big difference between today and three years from now.
John details out the current estate tax rates and exemptions, and explains how they operate. Then, he gives a projection of what's to come in the next few years under the current plans on the books, and what that all means for you.
John then goes through a few concrete examples that can help you understand the way these exemptions and changes work. He walks through what three different families with $3mm in assets, $13mm in assets, and $27mm in total assets will be looking at in terms of their estate tax bill.
He'll also detail the different outcomes if those families do no planning versus doing estate tax planning. Shocker: the families facing estate tax pay a LOT less after even a modicum of tax planning.
Estate planning can be super complicated, but it doesn't have to be. John is here to make it simple and easy to understand.
Schedule a free consultation with Strohmeyer Law to protect your family with an estate plan.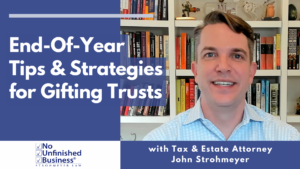 As the year draws to a close, there are some crucial actions to take with an irrevocable gifting trust.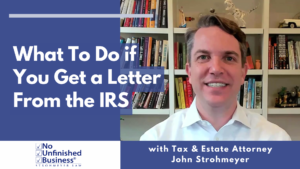 Receiving a letter from the IRS might send shivers down your spine. So what's your first step? Is it always a cause for alarm? Let's walk through what you should do.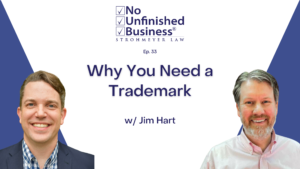 We'll explain the the four main areas of intellectual property for business owners, why trademarks are crucial, and how to get your marks registered.