Tailoring Retirement Plans for Business Owners
No Unfinished Business Podcast Ep. 24 w/ Elijah Lopez
When it comes to business owners and their retirement planning, there isn't a one-size-fits-all approach. Let's explore some options.
Retirement Options for your Small or Privately-Held Business
In this episode, we speak with Elijah Lopez, a financial advisor at Manske Wealth, about the options that exist for business owners looking to provide a retirement plan for their employees or for themselves, and the importance of tailoring these plans to the individual business.
We discuss the process of working closely with not just clients, but also their attorneys, and CPAs to create the best solution for their specific situation, and how that can change over time.
He shares a case study of a client who started with an IRA, scaled up to a SEP IRA, and eventually added a 401K with profit-sharing as the business grew. By understanding the client's needs and goals, we can craft a plan that evolves with the business, providing the best possible outcome.
Listen in as Elijah discusses the key differences between IRAs, SEP IRAs, and 401Ks, and learn how he determines when a business owner is ready to make the leap to a more complex retirement plan.
Lastly, we get into some broader client behavioral psychology, and ways to decode and preempt clients who think they know exactly what they need.
Connect with Elijah on LinkedIn at https://www.linkedin.com/in/elijahlopezmanskewealth/ or at https://manskewealth.com/staff/elijah-lopez/
---
No Unfinished Business® Podcast
We hope you'll join us each week, so hit that follow button, and if you have any questions, feedback, or ideas for topics, please reach out via social or email. We'd love to hear from you.
Contact John at john@strohmeyerlaw.com or via social.
Visit https://www.strohmeyerlaw.com/houston-professional-advisors for more info about how John works with professional advisors.
Schedule a free consultation with Strohmeyer Law to protect your family with an estate plan.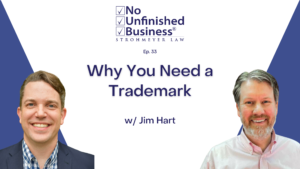 We'll explain the the four main areas of intellectual property for business owners, why trademarks are crucial, and how to get your marks registered.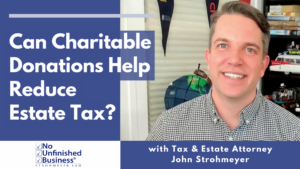 Charitable donations can make a meaningful impact and potentially save you on estate taxes. We'll explain how the two relate.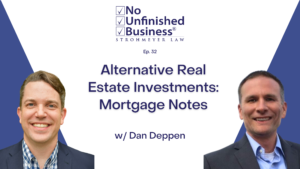 Discover how investing in mortgage notes can be a great alternative to traditional real estate investing.